ELOGplan GmbH participates in networks and partnerships, in order to pool knowhow, develop new innovative ideas, establish international contacts and identify new challenges of the market. It works with specialists from other fields on projects or issues. There is also a collaboration with the companies of the BÜCHL Group, both in Germany and abroad, with regard to planning orders for key accounts and the development of new business activities.
Cluster of Environmental Technology Bavaria
ELOGplan GmbH is active as a member of the Cluster of Environmental Technology Bavaria and repeatedly participates in its activities:
Joint processing of international project enquiries with cluster members
Guided tours of international delegations through plants of the BÜCHL Group
Platform for contacts with and projects for international clients
The Cluster of Environmental Technology Bavaria is an initiative of the Bavarian State Government for pooling the competences of the Bavarian companies active in the environmental sector and for the establishment of international contacts and business relationships.
Bavarian Environmental Pact
ELOGplan GmbH (formerly known as BÜCHL Consult + Engineering) is a member of the Bavarian Environmental Pact. The Bavarian Environmental Pact is an agreement between the Bavarian State Government and Bavarian business and has existed since 1995. The main focuses are:
Voluntary measures on the part of business for the achievement of environmental objectives
Use of resources, energy efficiency, recycling cycles
ELOGplan has a concrete involvement in the new agreement on the Bavarian Environmental Pact, which has been valid since 2015, with the BENCHMARK Tool.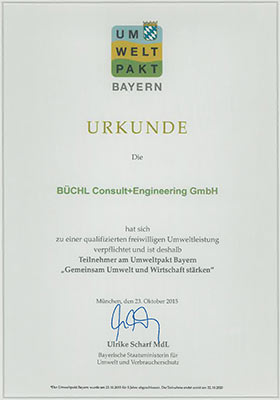 TH Ingolstadt
ELOGplan GmbH has worked closely with institutes of TH Ingolstadt on projects for many years, including
Joint projects (e.g. logistics in production plants)
Joint funded research projects (e.g. SAFIR)
Support with the establishment of the Institute for Applied Research
ELOGplan also supports the further alignment of TH Ingolstadt in the issues of the future, from digitalisation to applied sustainability and the establishment of the "Institute for Applied Sustainability", including at international partner universities.
Fraunhofer Gesellschaft
Für konkrete Forschungsprojekte in materialspezifischen Themenfeldern der Abfallwirtschaft wird die Zusammenarbeit mit der FhG ISC gezielt aufgebaut.
Projekt-Partner
Zur Umsetzung von Kunden-Projekten arbeitet die ELOGplan GmbH immer wieder mit Spezialisten in bestimmten Fachbereichen zusammen bzw. bringt ihre spezifischen Kenntnisse ein, zu den Unternehmen gehören unter anderem:
AEV (Bioenergie)
AGILION (Logistik, Ortung)
BAUER (Ressources Boden, Anlagen)
INGENICS (Werksplanung)
ELOGplan offices
ELOGplan is active with branch offices in the following countries, in cooperation with our sister companies and on the basis of projects:
SEMINARS AND FURTHER TRAINING
For many years, ELOGplan GmbH has organised further training events, internal workshops and statutory training sessions. Today, the main focuses are:
Transport, harzardous goods and storage
Market overview of waste disposal and recycling technology
Support for foreign delegations
The events are conducted both in our training rooms and external at the premises of clients (in-house), associations and other organisers, predominantly in Bavaria.
REGION 10 SEMINAR
From mid-2016, all ELOGplan's further training and seminar events are offered under the new brand "REGION 10 SEMINAR". This underlines the close relationship with regional clients and companies in greater Ingolstadt. Region 10 in Bavaria includes, in addition to Ingolstadt, the surrounding districts of Eichstätt, Neuburg-Schrobenhausen and Pfaffenhofen.
ELOGplan's training sessions are increasingly conducted in cooperation with other providers, associations and expert speakers.
CONFERENCE ROOMS
Modern premises are available for our events. The connection to the motorway BAB 9 and the 45 min distance from Munich Airport are perfect for the participants. The conference rooms are fully air-conditioned, have state-of-the-art media technology, are flexible in terms of the seating configuration, and are equipped with a service or get-together area.
You can find detailed information on the conference areas here.